Ultra Amplified Dimension Mod 1.16.5/1.15.2/1.14.4 for Forge is a Dimensions mod. It features a bunch of spectacular structures for you to explore.
You will see that the land is now turned into floating layers once you have installed this mod in the game. Besides, it utilizes lots of biomes that are like in vanilla with lots of changed features to be suitable for the landscape. When you enter this new dimension, you will experience Minecraft in a new way.
Features of the mod:
You will see lots of trees appearing under the floating layers. They come with Glowstone-infused blocks that give light and columns that link layers together.
There are plenty of stunning biomes in this new dimension. This also includes the Nether and End biomes.
Various structures for your expedition such as Mushroom Temples, Ice Spike Temples, etc.
Make sure you bring some torches with you. They help you discover the lower layers easily.
To get into this dimension, you need to do these:
Make a portal that leads you to that dimension. This requires you to have 8 Polished Granite, 8 Polished Andesite Slab, and 1 Polished Diorite.
Now, you click the right mouse button on Polished Diorite as you hold Flint and Steel.
When you right-click the Polished Diorite again, you will enter the dimension.
Ultra Amplified Dimension brings you an amazing adventure. Download and run it in the game with Minecraft Forge installed.
Screenshots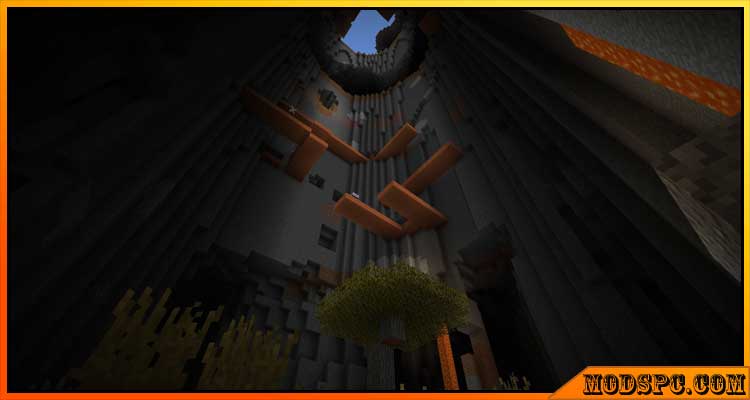 How to install:
Make sure you have already installed Minecraft Forge.
Locate the minecraft application folder.
Open Run from the start menu.
Type %appdata%, click Run.
Input where the mod you have just downloaded (.jar file) into the Mods name folder.
When you open Minecraft, click the button mods, you see the mod is installed.